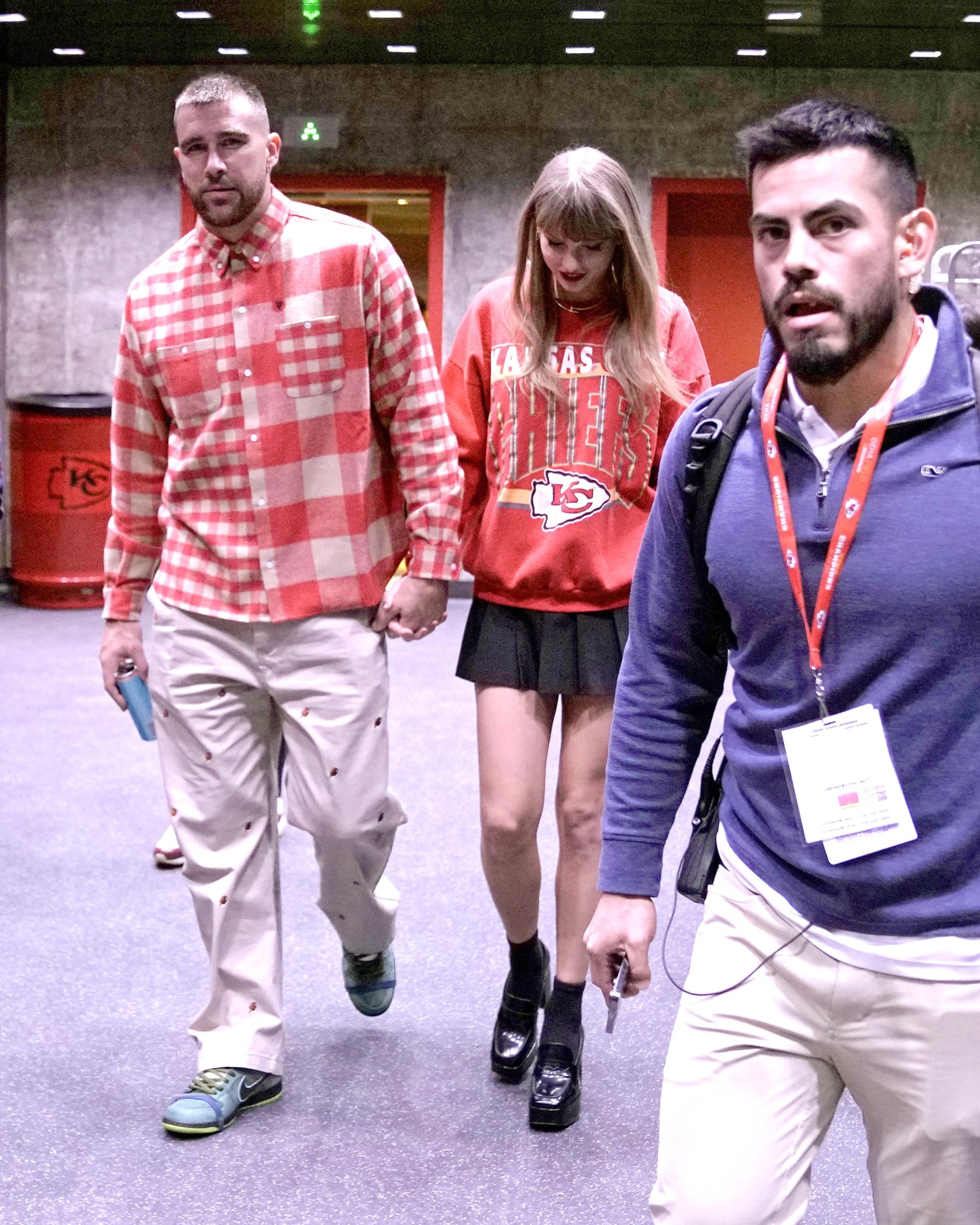 Taylor Swift and Travis Kelce made good use of their time together in Argentina during the singer's recent stop on the "Eras Tour."
The Kansas City Chiefs tight end traveled down to Buenos Aires on Nov. 10. Swift had a trio of shows planned from Nov. 9 to Nov. 11, however, her Nov. 10 show was postponed to Nov. 12 due to adverse weather.
The evening of the postponed show, Kelce and Swift were spotted leaving the restaurant Elena at the Four Seasons in Buenos Aires. Travis Kelce opened up about his night out with Swift to his brother, Jason Kelce, on the Nov. 15 episode of their podcast, "New Heights." 
"It was the first night I was there. Really the only night we had a chance to go to dinner was the night the show got postponed," he explained. "So we didn't want to just go and have a blast throughout the city like we didn't care about the show, so we made sure we stayed in the hotel and kind of kept to ourselves." 
The rumored couple did get a chance to have dinner together, with Travis Kelce telling his brother about their meal that evening. 
"We got some good food, man," he said. "Had some empanadas and steak. They're big on all the different cuts of meat."
In video shared on social media, the singer's father, Scott Swift, appeared to be leaving the restaurant with his daughter and Travis Kelce.
Travis Kelce confirmed that he had dined with her dad the day before the show, teasing his brother that he had gotten Scott Swift to wear a Kansas City Chiefs lanyard and betray his Philadelphia Eagles fandom.
"Man, I might have persuaded him at dinner the night before when I met him," Travis Kelce said. "Maybe? Who knows."
During the episode, Jason Kelce prodded his brother for more details about his trip to Argentina, including a cheeky reference to Swift's song "Labyrinth," which was her surprise song on Nov. 9 with lyrics that alluded to her "falling in love again."
He also brought up the moment that sent the internet ablaze — Swift's lyric change in her song "Karma."
On Nov. 11, she swapped the original line "Karma is the guy on the screen / Coming straight home to me" with "Karma is the guy on the Chiefs / Coming straight home to me."
Travis Kelce said he was "shocked" by the lyric change, though he alluded to the fact that he had an inkling the new lyric was coming.
"I had no clue — well, I might've had a little bit of a clue, but definitely, when I heard it come out of her mouth, it still shocked me," he explained. "I was like, 'Oh, shh,' she really just said that, alright."
After Travis Kelce's appearance at the "Eras Tour," several fan videos flooded the internet, including a kiss with Swift after the show, as well as a hilarious moment between the NFL star and the singer's dad.
One fan video caught the moment Swift sang her new lyric in "Karma," including Travis Kelce and her father's reactions. After she sang the line, her dad turned to the NFL star and tapped his shoulder before lifting his arm in a high-five attempt, but Travis Kelce didn't seem to notice the gesture.
"You were so shocked that you left Scott hanging. Scott's over here looking for a high-five," Jason Kelce pointed out.
Travis Kelce added, "Yeah, Mr. Swift, I apologize, big guy and I missed that."
"I never miss a high-five too," he added. "Big high five guy. It's the most electric thing you can do at an event, so sorry, Mr. Swift."