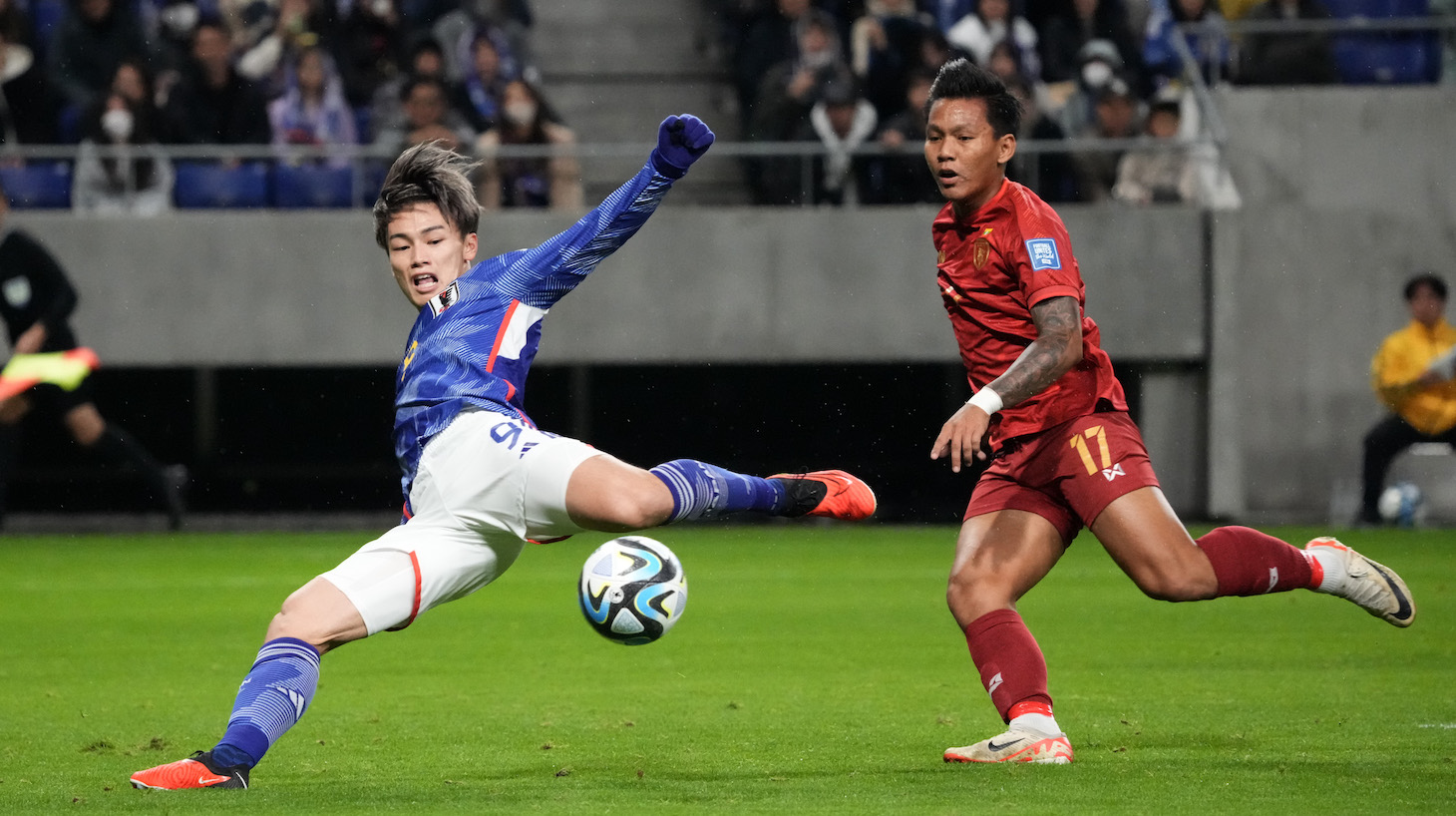 The particulars of Japan's strange and amazing World Cup last year might lead one to believe the team's success to have been mostly a fluke. In the group stage, the Samurai Blue somehow parlayed intermittently impressive soccer into historic victories over both Germany and Spain, sandwiched around an inexplicable loss to Costa Rica. In the round of 16, Japan finally put together a complete showing, only to fall on penalties to a drab Croatia. It was an incredible run, maybe the most purely entertaining one of the whole tournament, but it wasn't exactly the kind that makes you envision even bigger things in Japan's future. However, judging from the play of Japan's national team and loads of Japanese players at club level, there should be no question that the Samurai Blue are in fact legit as hell.
Japan's long road to the 2026 World Cup started on Thursday, in a home match against Myanmar. Myanmar being Myanmar, Japan predictably had no trouble summarily dispatching the team FIFA ranks 158th in the world. Japan enjoyed 83 percent of the possession, took 31 shots to Myanmar's zero, and scored five times, three coming from striker Ayase Ueda. Two goals exemplify Japan's class and Myanmar's awfulness. Both feature very cool lofted assists, as well as totally unimpeded bursts in behind Myanmar's highly populated but criminally porous back line:
Still, such a comprehensive win is laudable no matter the opponent. And evidence of Japan's seriousness as a team isn't limited to this one breezy blowout against Myanmar. Since the World Cup, Japan has played eight friendlies, all of them against quality opposition. They put together a record of seven wins, one draw, and one loss. The most impressive of those victories were the 4-1 win over Canada and a 4-1 away win over Germany. Both of those performances were surprisingly commanding, especially the one against Germany. In both matches Japan had less possession but out-shot the opposition, capitalizing on the intensity of their high pressing and the incisiveness of their counter attacking en route to two statement-making results.
At this point, the hallmark of Japanese soccer—men's and women's—is technical proficiency and tactical versatility. Their teams are full of little sprites who can control, dribble, pass, and shoot the ball under duress with extreme accuracy, all in a flexible team concept that can win games playing any which way: attacking or defensive, proactive or reactive, direct or patient. Again, Japan had 33 percent possession against Germany, 41 percent against Canada, 45 percent in a 4-2 win against Turkey, 60 percent in a 2-0 win against Tunisia, and 83 percent against Myanmar. No matter how much or little of the ball the Samurai Blue see, they know how to use their exceptional talent to break down the opposition whichever way is needed.
And Japan's talent really is exceptional, as proven by what they do at club level. As is usually the case for the country, their richest line is in attacking midfield. Takefusa Kubo is the star player for the coolest team in Spain. Kaoru Mitoma is the star player for one of the coolest teams in England. Takumi Minamino has finally bounced back from his disappointing stint on Liverpool's bench to regain his prominence and silkiness with Monaco. (Minamino had two assists, including the cooler of the two posted above, in the Mynamar game.) Ritsu Doan and Junya Ito are established dribble-wizards, and Kaishu Sano is one on the come-up. (Sano is also a hunk whose strong, stubbled jaw and poofy hairdo make him look like a Captain Tsubasa character come to life.)
Away from the attacking midfield, Feyenoord striker Ueda might be the goalscorer Japan has long needed, Lazio midfielder Daichi Kamada is still a baller, Liverpool midfielder Wataru Endo is as steady as ever, Arsenal defender Takehiro Tomiyasu is super reliable and versatile, and Stuttgart defender Hiroki Ito is playing his way into a big move. Also keep an eye on Zion Suzuki, a 21-year-old goalkeeper who's doing well in his first season in Europe. He's already become the starter at Belgium Pro League club Sint-Truidense, where he's taken over for compatriot Daniel Schmidt. And, fun fact: Suzuki and Schmidt were both born in America!
For soccer fans who don't have much reason to pay attention to the goings on in the Asian confederation, the Japan national team only really makes waves come World Cup time. And while qualifying for the big show should never pose a real problem for Japan, the way the team plays along the way of course helps determine how they'll do once they get there. We're still about two and a half years away from the 2026 World Cup, and plenty can change from then to now. But there's lots of reason to expect Japan's next foray into the spotlight to look a lot like their last one, because there is nothing fluky about this team today.