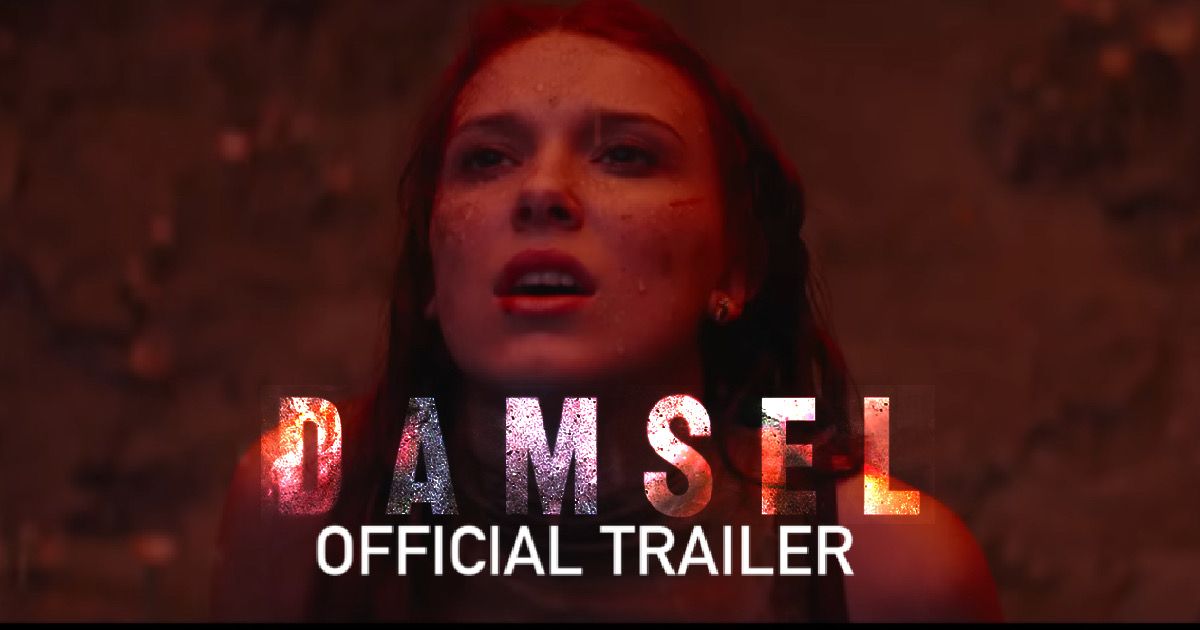 Summary
Netflix Geeked releases trailer for fantasy film Damsel starring Millie Bobby Brown, featuring princesses, dragons, and a damsel challenging her fate.
Damsel stars a star-studded cast including Angela Bassett and Robin Wright, directed by Juan Carlos Fresnadillo, and written by Dan Mazeau.
Millie Bobby Brown continues her collaboration with Netflix, returning for Enola Holmes 3 and the final season of Stranger Things.
Netflix Geeked has unveiled the first trailer for Damsel, a fantasy film with a twist starring Stranger Things and Enola Holmes' Millie Bobby Brown. Centering on a damsel in distress who will fight to challenge that description, Damsel features all the handsome princes and fire-breathing dragons that you could wish for. Check out the newly released trailer for Damsel below:
Alongside the newly released trailer, you can also check out the official synopsis for Damsel below:
"A dutiful damsel agrees to marry a handsome prince, only to find the royal family has recruited her as a sacrifice to repay an ancient debt. Thrown into a cave with a fire-breathing dragon, she must rely on her wits and will to survive."
Led by Stranger Things star Millie Bobby Brown, Damsel stars Academy Award nominee Angela Bassett (Black Panther: Wakanda Forever), Emmy-nominated actor Robin Wright (House of Cards), Ray Winstone (Black Widow), Nick Robinson (Jurassic World), Brooke Carter (Close to Me) and Shohreh Aghdashloo (The Expanse).
Damsel is directed by Academy Award nominated filmmaker Juan Carlos Fresnadillo (28 Days Later, Intacto) and written by Dan Mazeau.
Originally scheduled to be released by Netflix on October 13, 2023, Damsel will now land on the streaming service in 2024.
RELATED: Netflix's Damsel: Plot, Cast, Release Date, and Everything Else We Know
Millie Bobby Brown Continues Her Collaboration With Netflix
Her leading role in Damsel is just one of the upcoming projects that sees Millie Bobby Brown continuing her collaboration with Netflix. The actor, who has become one of the most sought-after talents in Hollywood due to her acclaimed performance in Stranger Things, will return to continue the Enola Holmes series with a third outing.
Enola Holmes 3 is now in development, with Scott Stuber, the Head of Netflix Film, confirming that work on the sequel is underway.
"You know, she's such a great homegrown star for us. I mean, obviously, Stranger Things is huge for us in that, and watching her grow as an actress. We have a film called Damsel with her in the spring, which I'm really excited about, [from] Juan Carlos Fresnadillo. Then, getting that character right. The Holmes IP is weirdly elastic. Obviously, Warner Bros. did an incredible job with Downey and Jude Law, so this idea that we can extend that IP with her is exciting. So, we're working once again on a screenplay to try to get that. But yes, aspiration. I'd like to do another one."
Brown will also reprise the role of Eleven in the fifth and final season of Stranger Things. And while there will be a lot of sadness when the show ends, Brown has said she is ready to move on.
"When you're ready, you're like, 'All right, let's do this. Let's tackle this last senior year. Let's get out of here.' Stranger Things takes up a lot of time to film, and it's preventing me from creating stories that I'm passionate about. So, I'm ready to say, 'Thank you, and goodbye.' When it ends, I'm going to be able to still see these people."
Stranger Things season five does not yet have a release date.