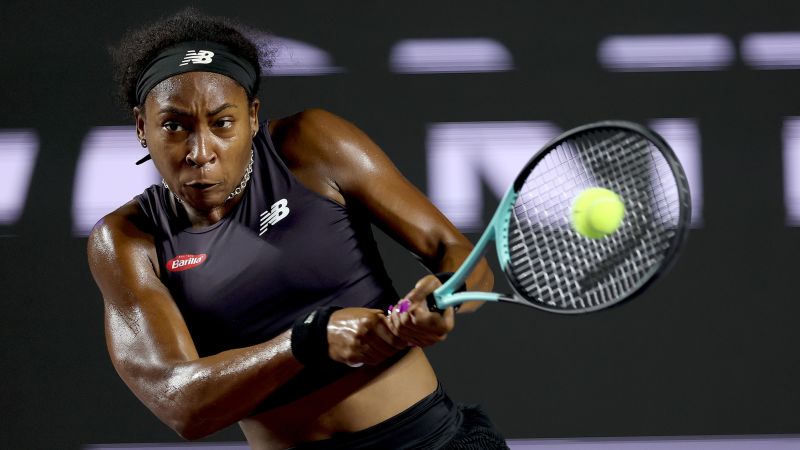 Clive Brunskill/Getty Images
Coco Gauff was in brilliant form to win her first WTA Finals match on Monday.


CNN
 — 

Coco Gauff made light work of world No. 7 Ons Jabeur, needing less than an hour to win 6-0, 6-1 in her first match of this year's WTA Finals on Monday.
The American won the first seven games of the match before Jabeur was momentarily saved by a lengthy rain delay in Cancun, Mexico.
After returning to court, Jabeur finally won a game, but the respite was short-lived as third-seed Gauff raced to a straight-sets victory.
It was Gauff's 50th win of the season, but her first win at the end-of-year finals, with the 19-year-old losing all her matches during last year's tournament.
"Ons [Jabeur] is a great player, so I felt really unsteady the whole match even though it didn't look like that," Gauff told reporters after her match.
"But I'm just happy to finally get a win here in this event."
The WTA Finals sees the best eight women's players of the year battle it out for the Billie Jean King Trophy.
The players are split into two round-robin groups, with the top two from each progressing to the semifinals.
Gauff, the reigning US Open champion, will face Iga Świątek in her next group match.
French Open champion Świątek also started her WTA Finals campaign with a win, fighting back from 5-2 down in the first set to beat Wimbledon champion Markéta Vondroušová 7-6 (7-3) 6-0.
Clive Brunskill/Getty Images
Gauff was congratulated by Ons Jabeur after their one-sided match.
Gauff, who became the first teenager to win 50 matches in a single season since Caroline Wozniacki in 2009, is playing her first tournament since splitting with coach Pere Riba.
"I would have loved to have him here. But you know, things happen. Life happens. So no bad terms on our end," Gauff said, speaking about her former coach.
"Sometimes people think it's bigger than what it is. But some things just didn't work out and that's all. I still think that he was a great guy.
"Obviously he did amazing things for me personally and also for my game. So I'm sure he's going to be successful in his next step."
Despite the major changes in her team, the youngster looks among the favorites to win her first WTA Finals title this month.
Jabeur, who was a finalist at this year's Wimbledon, said she was impressed by Gauff's quality and consistency.
"She played really well," Jabeur told reporters after the match. "She played a correct match, didn't make a lot of mistakes. On my part, I did make a lot of mistakes."
The end-of-year tournament is supposedly a celebration of elite women's tennis, but world No. 1 Aryna Sabalenka has criticised the Women's Tennis Association (WTA) for its organization of this year's event.
After beating Maria Sakkari in straight sets on the opening day, Sabalenka said she felt "disrespected" due to the quality of playing surfaces.
Estadio Paradisus, which is hosting this year's competition, was only completed a week prior to the first match, according to Reuters.
"I'm happy that I was able to stay focused tonight, overcome the conditions, and play well," Sabalenka said on her Instagram story Sunday, per Reuters.
"I have to say though that I am very disappointed with the WTA and the experience so far at the WTA Finals. As I said in my press conference tonight, as a player I really feel disrespected by the WTA. I think most of us do. This is not the level of organization we expect for the Finals.
"To be honest, I don't feel safe moving on this court a lot of the time, the bounce is not consistent at all, and we weren't able to practice on this court until yesterday for the first time.
"It's just not acceptable to me with so much on the line and so much at stake."
Sabalenka stressed that she appreciated those working at the event and the people who built the stadium at the last minute. She also thanked the Mexican fans who have come out to support the players.
"I'm very happy to be in Mexico, I'm just upset with the WTA and this situation," she added.
In a statement to CNN, the WTA said it was "pleased to host the WTA Finals in Cancun for the first time" and "worked hard to construct a stadium" for the players.
"The team has worked diligently on an expedited timeline amid weather challenges to ensure the stadium and court meet our strict performance standards," it said.
"We look forward to this week ahead and playing in front of the energetic fans here in Cancun."