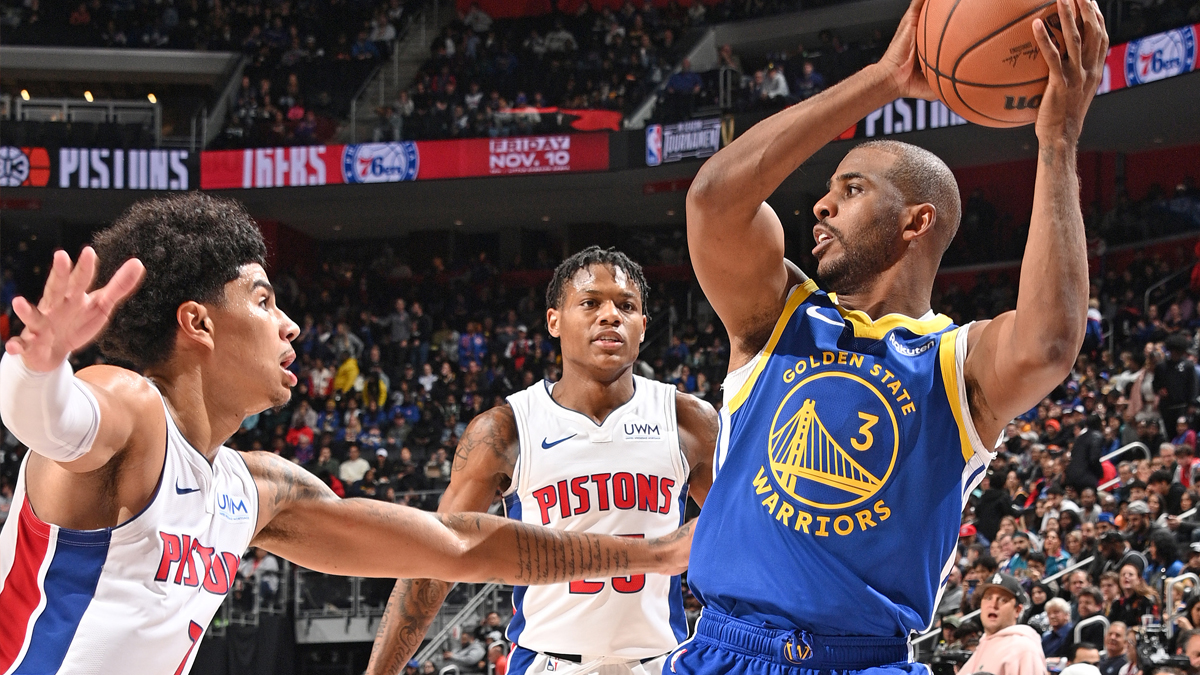 We know we're a very good team. We won a championship a year ago. But we've grown weary of those nights when we walk off the court after a defeat largely of our own creation. Please help us.
That's the message the Warriors delivered to Chris Paul upon acquiring him in July. And eight games into the season, the 38-year-old point guard is delivering: 61 assists, six turnovers. Better than a 10-to-1 assist-to-turnover ratio. Absurd.
But Paul is a 12-time All-Star because he is a complete player. He had not been that. Missing was the usually reliable shot that had been there since he arrived in the NBA in 2005. It has been there his entire career. Where had it gone?
CP3 might have found it Monday night in Detroit. He scored a season-high 17 points, shooting 6 of 9 from the field, including 2 of 3 from beyond the arc, in a 120-109 win over the Pistons.
"Chris has made such a huge impact even without making shots," coach Steve Kerr told reporters at Little Caesars Arena in Detroit. "Now, with the last couple games, knocking shots down adds to what he's already doing."
Make that the last game, period. Paul shot 2-of-10 Sunday in Cleveland, dropping him to 3 of 21 and 1 of 10 from distance over a three-game span. He took the court Monday lugging some of the ugliest percentages in the NBA, 31.8 from the field and 0.77 beyond the arc.
Paul focused on his No. 1 priority and his shot was suffering. It didn't matter if he was leading the second unit or playing alongside Stephen Curry, whose gravity creates space for all teammates.
"Obviously, we have Steph," Draymond Green said. "But when you have a guy like Chris on the floor, who can also get to whatever shot he wants as well in those situations, it's really good for us. And, also, he's not going to have the best defender on him."
Shots just were not falling – until Monday.
"You're always trying to find your rhythm," Paul, who recorded six assists in the win, said on NBC Sports Bay Area's "Warriors Postgame Live" shortly after the win. "We got so many guys on our team who are able to shoot and score. So, I've just got to be more aggressive."
Paul was at his aggressive best in the fourth quarter, the first nine minutes of which the teams stayed within two possessions of each other. His 10 points in the quarter were more than he totaled in previous three games combined.
He scored six points in an 86-second span early in the fourth before taking a brief rest with 5:25 remaining. He returned with 1:57 remaining, rejoining Curry, with the Warriors leading by six (113-107).
After CP3 drained a midrange jumper and two free throws in a 22-second span, the Warriors had an eight-point lead with 1:04 left to play.
"It was really methodical," Green said of Paul's late-game management. "That was good for us. We're starting to add that to our book if you will."
That's where Paul has an opportunity to prosper. He's a master at manipulating defenses, and Curry's presence – as well as that of Klay Thompson – will give him plenty of options to explore over the next 74 games.
The No. 1 priority remains No. 1, though.
"What he's doing, as we're trying to find our team and our rhythm, is keeping us in games," Kerr said. "He's leading the second unit. Taking care of the ball. Only 11 (Warriors) turnovers tonight. Chris has been amazing for us."
What's left for Paul now is assembling his complete game. This was the clearest sign of it.
Download and follow the Dubs Talk Podcast