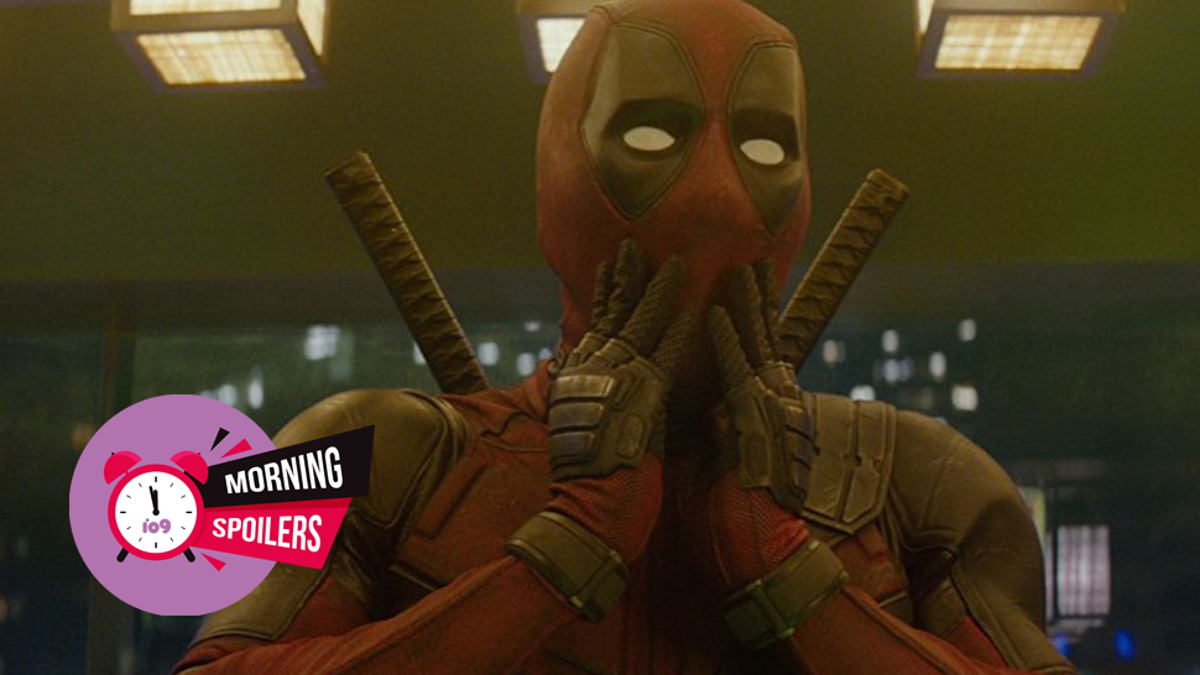 Netflix wants to make more Fear Street. Chad Stahleski has an update on the John Wick animated series. Read a snippet of dialogue from Doctor Who's anniversary specials. Plus, what's coming on Shining Vale. Spoilers get!
Who Should Be The New Wolverine? io9 Picks
Opus
Deadline reports Ayo Edebiri, John Malkovich, Murray Bartlett, Amber Midthunder, Stephanie Suganami, Young Mazino, Tatanka Means and Juliette Lewis are attached to star in Opus, a horror film at A24 written and directed by Mark Anthony Green. While specific details on the story are currently under wraps, the film is said to center on "an iconic pop star's return following his decades-long disappearance." The movie will additionally include original songs from Grammy-winning artists and co-producers, The-Dream and Nile Rodgers.
---
Fear Street
During a recent interview with Collider, producer Scott Stuber confirmed Netflix plans to make a "stand-alone" Fear Street movie likely based on one of R.L. Stine's original books.
Obviously, there's a lot of books. There's one stand-alone that we're working on right now that we're once again trying to get the script right, but I like it very much, and so does the team. So I feel like if we can get that script right there would be a great kind of extension of that franchise.
---
Beetlejuice 2
According to Deadline, Beetlejuice 2 is still expected to meet its September 6, 2024 release date as it resumes production following the SAG-AFTRA strike.
---
Deadpool 3/Captain America: Brave New World/Blade
Ryan Reynolds also revealed Deadpool 3 is now expected to release July 26, 2024.
That date was previously held for the next Captain America movie, which Deadline now reports has been moved to February 14, 2025. Blade, previously slotted in for that Valentine's Day, will shift to November 7, 2025.
---
Mortal Kombat 2
Elsewhere, Mortal Kombat 2 director Todd Garner stated his sequel will begin filming before the end of the year.
---
The Marvels
Kamala Khan fantasizes about meeting Captain Marvel in a new, partially animated clip from The Marvels.
---
Crust
A retired actor living inside a laundromat accidentally creates a monster made of discarded socks in the trailer for Crust, starring Sean Whalen, Alan Ruck, Daniel Roebuck, Rebekah Kennedy, Shawntay Dalon, Felissa Rose, Ricky Dean Logan and Daniel John Kearney.
CRUST FULL TEASER TRAILER
---
EONII
Elsewhere, a Tanzanian scientist's revolutionary invention sparks a civil war in the trailer for EONII.
EONII | Official Trailer II (2023) – English Subtitles
---
John Wick Spinoff/John Wick Anime Series
Chad Stahleski revealed both an anime series and a live-action spinoff focusing on the "ancillary" characters of the John Wick franchise are now in development during a recent interview The Playlist.
Yeah, I love Donnie [Yen], I love Rina [Sawayama], love the Tracker (Shamier Anderson), and the TV show and the ancillaries will give us a chance to expand the kind of fun world we've created, and it doesn't have to be John Wick, the character specific, you know what I mean so that we can explore all that stuff.

And I think TV is a better format for that, I think because people can jump into the backgrounds, you don't have to spend so much time with the first act set up and all that.

So we're really looking forward to that; we're really excited about it because we're doing that and a Japanese anime because I love Japanese anime so much. So to create all the cool stories that anime could achieve better than we could and the TV show to expand our world, we'll still get our fix, you know what I mean? And we'll still have all the fun.
---
Doctor Who
The latest issue of Doctor Who Monthly (via Den of Geek) shared the dialogue exchange between the Doctor and Donna leading to her line, "we go kick its arse!" in the upcoming Doctor Who special, "Wild Blue Yonder."
DOCTOR: There's one hope. A mechanism on board the TARDIS called the HADS. Hostile Action Displacement System. If the TARDIS is in danger, it goes away.

DONNA: Goes where?

DOCTOR: Anywhere. And it only comes back when the danger is gone. I turned it off, years ago. I mean, I'd never land anywhere. Once spent three years in orbit. I thought, oh, turn off the HADS. But if the TARDIS is rebuilding itself, maybe it clicked back on.

DONNA: There's something so bad the TARDIS ran away?

*a beat*

DOCTOR: Yes.

*another beat*

DONNA: Tssst. We. Go. Kick its arse!
---
Shining Vale
Finally, Gaynor introduces herself to an exorcist in a clip from tonight's episode of Shining Vale.
SHINING VALE – Season 2, Episode 5 Clip: The Arrival of the Exorcist
---
Want more io9 news? Check out when to expect the latest Marvel, Star Wars, and Star Trek releases, what's next for the DC Universe on film and TV, and everything you need to know about the future of Doctor Who.